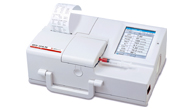 ● A laptop, battery-driven handy type, the equipment can be used in various places.

● With the adoption of a cassette-type design allowing storage at room temperature, the equipment can be easily handled.

● With the adoption of a liquid-crystal-display color touch screen, it can be easily operated.

● With an automatic specimen suction system, the equipment is capable of performing accurate measurement.

● Three-step measurement
Its touch screen displays the operation procedure for each step.

● Rechargeable battery
In addition to a rechargeable battery, OPTI CCA TS can also be used with a normal 100-V power supply.
The rechargeable battery is removable and can be used for up to four hours on a single charge.

● Critical care analysis
Since OPTI CCA TS actually measures oxygen saturation (SO2) and total hemoglobin (tHb) while measuring blood gas and electrolyte, more useful information can be obtained. Measurements can be taken by simply reading the barcode of a cassette and setting the cassette and a sample.