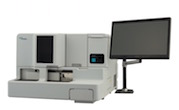 ● Four detection principles, high-speed and multi-item processing
Fully automated blood coagulation analyze CS-2400i is powered by four detection principles (clotting, synthetic substrate, immune nephelometry, agglutination method).
It analyzes large sample volumes at high productivity for all parameters and possible for simultaneous random access.

● Detection method offers highly accurate data
Using the multi-wave detection, CS-2400 analyzes the optimum wavelength by principles, the reaction process with five wavelengths and offers high reliable data.

● Easy-to-follow, simple operation
Windows (Japanese version) is adopted for the OS, and easy-to-follow GUIs (graphical user interfaces) and a touch panel screen enable easy operation.
* Windows is a registered trademark of Microsoft Corporation in the United States.

● Detection principles:
coagulation method, synthetic substrate method, immune-nephelometry, agglutination method

● Parameters:
PT (prothrombin time), APTT (activated partial thromboplastin time), Fbg (fibrinogen),
extrinsic coagulation factor (II, V, VII, X), intrinsic coagulation factor (VIII, IX, XI, XII),
coagulation factor XIII, TTO (thrombo-test), HpT (hepaplastin test), AT-III, PLG, α2PI,
PC ・FDP, D dimer, PIC, vWF, FMC(fibrin monomer complex)

● Up to 60 parameters can be analyzed simultaneously

● Throughput:
PT _ 180 tests/h
PT/APTT _ 115 tests/h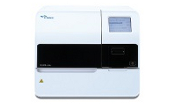 ● Compact, fully automatic system
The world's smallest-class system in which functions required for blood coagulation testing are compactly integrated.

● User-friendly interface
With a color LCD touch panel, the displayed information is easily viewable and the equipment can be easily operated.
The specimen number and the barcode label*1 affixed on the blood collection tube allow you to ask the host computer for the measurement items on a real-time basis.
*1: CA-620 requires an optional ID barcode reader.

● Measurement items
Settings of 14 items such as PT, APTT, Fbg, TTO, HpT, factor assay, ATⅢ*, APL*, Plg*, PC*, D dimer* and FDP* can be input.
From the 14 items, 5 items can be randomly selected to perform measurement.
* Available for CA-650.

Coagulation method Synthetic substrate method Immune-nephelometry

● Fully automatic measurement
Capable of processing approximately 60 tests per hour (in the case of measuring only PT).
The reagent can be used without waste using a syringe-type pipette. An urgent specimen can be preferentially measured by interrupting normal measurement.
Among the 10 reagent holder holes, 4 holes are equipped with a reagent cooling function.
The sample tube used for measurement will be automatically discarded after use.
Capable of storing data on 600 specimens (up to 3,000 tests) and 100 error logs.
With an embedded thermal graphic printer, the equipment prints measurement data, including specimen number and reaction curve, for each specimen.
The capacity of the cleaning solution/liquid waste bottle can be selected according to usage (standard: 5 liter; option: 2 liter).